Briefly about us...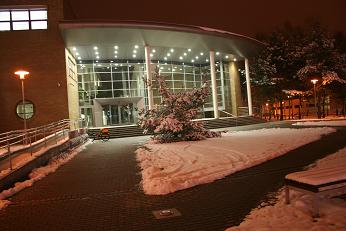 The new building of the Faculty of Biology, Adam Mickiewicz University, situated in the N part of the Poznań agglomeration, currently houses our offices (2nd floor)
Photo by P. Szkudlarz
Department of Plant Taxonomy (DPT, also abbreviated according to its Polish name as ZTR) belongs to the Institute of Environmental Biology within the Faculty of Biology which is one of 15 faculties at the Adam Mickiewicz University (AMU) in Poznan, a leading educational institution in Western Poland.
Currently, our department employs: one full professors, five assistant professors, two doctors and 3 technical employees with the M.Sc. title. Moreover, three Ph.D. students and two professors-emeritus are currently supplementing our team.
The department was formally established in 1974 by its founder and the first manager Prof. Waldemar Żukowski.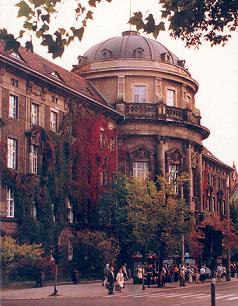 Collegium Maius - the first headquarters of the Department, situated in the centre of Poznań
Photo by P. Szkudlarz
The DPT originated directly from the former Chair of Plant Systematics and Geography which was managed for many years by Professor Zygmunt Czubiński. However, it was rooted even in 1920s, where the pioneers of Polish botany worked at our university: Prof. Adam Wodziczko - an eminent representative of modern nature conservancy and Prof. Józef Paczoski - doctor honoris causa of the Poznan University, one of the most remarkable Polish naturalists, distinguished by his contribution to theoretical backgrounds of vegetation sciences.
At present, scientific research and educational activities of the DPT are focused on various issues linked to: plant taxonomy and chorology, plant and vegetation ecology, as well as nature protection. The main objects of our interest are vascular plants with particular attention being paid to the NW regions of Poland. Taxonomical investigations of chosen plant groups are carried out considering general geographical ranges of species, whereas floristical and phytogeographical research are currently made in many parts of Poland (including lowland and mountain regions), as well as abroad, e.g.: in South Africa, on the Balkan Peninsula, in the Netherlands and in Austria (Vienna).
Since the beginning of the department's existence it houses a herbarium of vascular plants which has became one of the largest collections in Poland (listed in a scientific database "Index Herbariorum" as 'POZ'). Presently, it comprises over 150 000 of determined plant specimens. At the moment the herbarium is deposited in the Faculty of Biology's newly created unit called 'Naturalistic Collections'.
Moreover, in the department there is also a large collection of seeds and fruits collected since 1970 by Prof. Karol Latowski. Similarly, as in case of traditional herbarium, the samples are catalogued and deposited in special envelopes; each of them attached with: species name, a locality and habitat description, as well as date and a collector's name. The collection contains ca. 2000 samples taken mainly from the whole of Poland, though also from some other European countries: from natural sites, as well as from renowned botanical gardens.
The Department of Plant Taxonomy also carries out its own publishing activity: so far, since 1993, within a series entitled "Prace Zakładu Taksonomii Roślin UAM w Poznaniu - Publications of the Department of Plant Taxonomy, AMU in Poznań", 20 volumes of geobotanical monographs have been issued. In 2006 an international scientific journal "Biodiversity: Research and Conservation" was established.